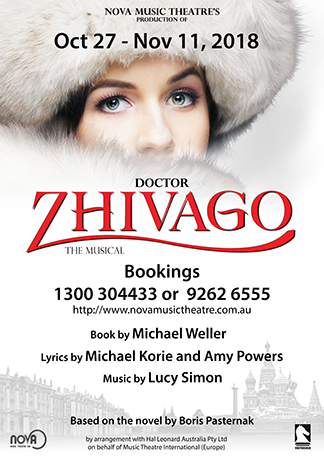 Director ... Noel Browne
Musical Director ... Phil Osborne
Choreographer ... Wayne Robinson
Doctor Zhivago is the most breathtaking love story ever told.

Based on the Nobel Prize-winning novel by Boris Pasternak, Doctor Zhivago is a heartbreaking epic romance, following the search for love during the final days of Czarist Russia.
Raised as an aristocrat, Yurii Andreyevich Zhivago is a political idealist, physician, and poet whose life is tossed by the tides of history as he is torn between a life with his close childhood friend and wife, and the passionate and mysterious Lara Guishar. Zhivago, however, is not alone in his yearnings for Lara, and must compete with both revolutionaries and aristocracy alike to win the heart of the woman he cannot live without.
There are many fantastic roles available.
Click here for a character breakdown
Auditions for
The Australian non-professional Premiere of Doctor Zhivago

Auditions for the October 2018 production of
Doctor Zhivago
are complete.
AUDITION REQUIREMENTS:
1. No roles have yet been cast.
2.. All people auditioning should prepare two contrasting songs of a similar genre to the show but not from this show.
The audition panel will likely only hear one song of the auditionee's choice, but your second selection, if requested, should show a contrasting vocal style.
Please bring sheet music in the correct key for the accompanist (facilities for pre-recorded accompaniments are not available).
3. Please bring a copy of your performance CV and a headshot to attach to your audition form.
4. We will attempt to adhere to booked times as far as possible. Please arrive at least 10 minutes before your audition in order to fill out the audition form.
5. Membership fees are payable at the first rehearsal. The fees cover a costume & script deposit, insurance, the gala supper, dinner between the matinee & evening performance on the final Saturday, refreshments & a DVD of photos of the show.
6. Successful auditionees will be making a commitment to be available for rehearsals (which are held on Sunday afternoon, Monday evening & Thursday evening), the photo night, sitz probe and production week and all performances. NOVA Music Theatre has a policy that cast can not miss more than 3 rehearsals.
Click here for the Audition Pack